Aberrant Sole
Website Design
http://www.aberrantsole.com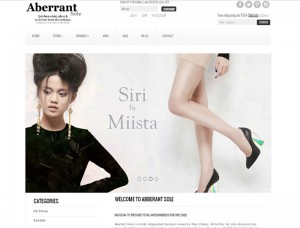 After working with a friend of the family and getting no where fast, this client needed some serious expertise to bring her high fashion shoes to market quickly. We set up a content management system that she can use to blog and promote her amazing line of foot ware as well as a fully integrated catalog to allow fellow shoe enthusiasts to purchase them as well. We customized a considerable number of modifications to our standard e-commerce platform to suit her specific needs too. I think it turned out well, do you?
Similar Website Layouts
The items below are listed in the category of our
layouts database
. Your website can look like just about any of the options below when we are Your-Web-Guys.
Make Us Your-Web-Guys Today

Step 1: Tell us about your business
Portfolio Categories
This is a categorized list of the clients we have currently online.
Success Studies
View More