Anderson Tobin PLLC
Legal Website Design
http://www.dallas-attorney.us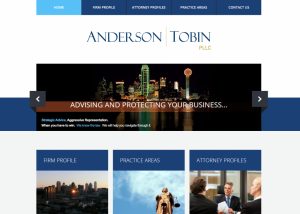 This prestigious Dallas law firm needed an update to their well established website. They were happy with the content and really the design wasnt that bad for being as old as it was. The problem was that the technology used was not up to the challenges the internet demands today. In addition, their previous company forced them to send in updates and modifications rather than being able to make those changes directly. This cost additional money and time and was totally unnecessary.
We took their original site as a starting point and gave it a bit of an update. Nothing major, but it does now have a responsive web design so that mobile devices and tablets will display their content better. Being mobile friendly was the first order of business, then we added a content management system so they could update their site directly, without needing anyone to be in the middle. The result is a website that kept its original identity but updated the technology on both the front and back ends.
Similar Legal Website Layouts
The items below are listed in the legal category of our
layouts database
. Your website can look like just about any of the options below when we are Your-Web-Guys.
Make Us Your-Web-Guys Today

Step 1: Tell us about your business
Portfolio Categories
This is a categorized list of the clients we have currently online.
Success Studies
View More