Blade Sharpening Service
Commercial Services Website Design
http://www.bladesharpeningservice.com/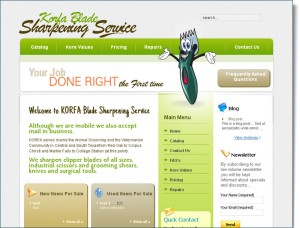 Did you know that not only is there hundreds of industrial tools that need sharpening, but that there is such a need for sharp blades that there is a very competative group of companies who do it? We didn't know until we were contacted by KORFA Blade Sharpening Service to build and maintain their new site.  They wanted a step up on their competition and to get better search engine rankings.  We created a customized content management system that not only lets them blog and update their website any time they need to, but also includes a rudimentary Paypal powered shopping cart so they can sell used and factory close out shears and clippers to their loyal customers.  If you need sharp blades for your grooming business or barber shop / hair salon then this is the company for you!
Similar Commercial Services Website Layouts
The items below are listed in the commercial services category of our
layouts database
. Your website can look like just about any of the options below when we are Your-Web-Guys.
Make Us Your-Web-Guys Today

Step 1: Tell us about your business
Portfolio Categories
This is a categorized list of the clients we have currently online.
Success Studies
View More