Capital Recruiting & Staffing
Recruiting and Staffing Website Design
http://www.mycapitalrecruiting.com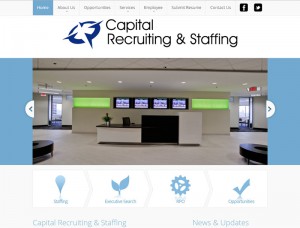 This referral from one of our other clients had a website before we became their web guys. However it was a bit dated and definitely not set up with the newest technology. That meant that their clients could not effectively access their website on mobile devices or tablets. We took care of that by redoing the entire site with a responsive web design so that no matter how a person accesses the site, it will respond and change its layout accordingly... automatically.
In addition, we set up or redesigned a matching Facebook Page, matching Google+ Page, matching YouTube Channel, and Twitter profile so that their brand will be cohesive throughout the online world. Now, no matter how someone finds them, be it through a social media outlet or through a search engine or just going straight to their website, this recruiting and staffing company will look fantastic.
Then we integrated their new site with a content management system so that they can more easily and more often update the content on it. Plus the CMS allowed us to not only easily add the social network share icons, but also syndicate the updates they make to their site through their social media outlets too. That way, when they add a new item to their website, their facebook, twitter, and google+ pages get updates too. Now they have the advantage of leveraging their time spent updating their site to social media activity also.
Similar Recruiting and Staffing Website Layouts
The items below are listed in the recruiting and staffing category of our
layouts database
. Your website can look like just about any of the options below when we are Your-Web-Guys.
Make Us Your-Web-Guys Today

Step 1: Tell us about your business
Portfolio Categories
This is a categorized list of the clients we have currently online.
Success Studies
View More