Dallas Ear Care
Medical Website Design
http://www.dallasearcare.com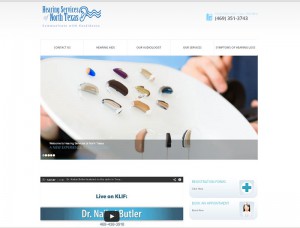 This dallas area audiology practice needed a new website that would allow them to make updates quickly and easily. When specializing in hearing aids and the technology behind them you must be nimble and able to adjust as new advances in the field take place. With our content management system Dallas Ear Care now has the ability to do just that. With a streaming video on their home page and a responsive web design their site looks good no matter how you view it.
Similar Medical Website Layouts
The items below are listed in the medical category of our
layouts database
. Your website can look like just about any of the options below when we are Your-Web-Guys.
Make Us Your-Web-Guys Today

Step 1: Tell us about your business
Portfolio Categories
This is a categorized list of the clients we have currently online.
Success Studies
View More