Life Up Level
Counseling Services Website Design
http://www.lifeuplevel.org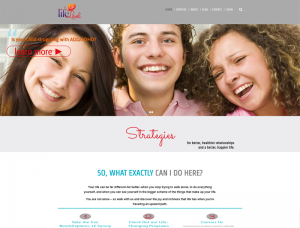 This personal life coach was looking to have her old site brought up to date and made into a responsive web design but she wanted to retain the look and feel of her old site as far as font customization and colors went. Your Web Guys was able to deliver a site to her that merged what she loved about her old site with a modern style that visitors can view on all sorts of mobile devices with great cross-browser compatibility. Her new content management system comes complete with a blog for keeping in touch with her clients and potential clients; and social media share icons for ease of keeping in touch with her followers on the social sites they enjoy every day. She now has a colorful jquery promo slider to broadcast news in an engaging way and videos conveniently embedded into her site!
Similar Counseling Services Website Layouts
The items below are listed in the counseling services category of our
layouts database
. Your website can look like just about any of the options below when we are Your-Web-Guys.
Make Us Your-Web-Guys Today

Step 1: Tell us about your business
Portfolio Categories
This is a categorized list of the clients we have currently online.
Success Studies
View More