Maximum Construction
Website Design
http://www.maximumconstructiontx.com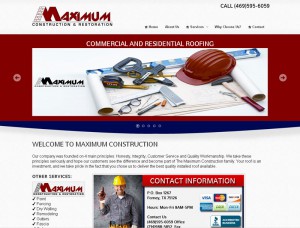 Even though we did not design this site, we took it over when the previous company dropped the ball. They had set up the site with the same content management system that we use for most of our clients, but they never gave the owner access to it. So each time the owner of Maximum Construction wanted to make an update to his website, he would have to pay that company to do it... even though they only had to copy and paste the update. Seems like a bit of a scam to me.
But that's not the worst part, because of the bandwidth and server space limits which the previous hosting provider put on their account the email addresses would stop working arbitrarily in the middle of a busy work day! Now that we have taken over the site, they will never have that problem again because we never put limits on our clients... if our server needs more space or bandwidth then we get more. Why would we punish you for having a successful, busy website? That is what we aim to do with all our clients.
Not only did we give the owner access to the back end system, but we also updated it and all the modifications as well as several malfunctions that the previous company did not think was important enough to fix... strangely enough Your-Web-Guys believe that the phone number being correct is pretty important so now it is easily visible on every page where before it was not showing up because of a simple typo in the code.
Similar Website Layouts
The items below are listed in the category of our
layouts database
. Your website can look like just about any of the options below when we are Your-Web-Guys.
Make Us Your-Web-Guys Today

Step 1: Tell us about your business
Portfolio Categories
This is a categorized list of the clients we have currently online.
Success Studies
View More