Picchi Pacchi
Food and Dining Website Design
http://www.picchipacchi.com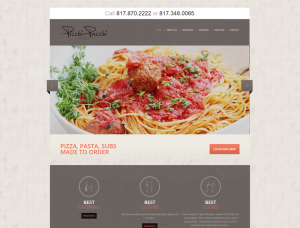 Picchi Pacchi has been around for over 20 years and it's continued to improve over time with its made-to-order Sicilian-style food that has only the freshest ingredients! Your Web Guys was excited to be a part of its tradition of improving over time by assisting with their updated web presence. We provided an easy-to-use content management system with a responsive web design so that their site now scales to fit most screen sizes. High cross-browser compatibility makes it easy for visitors to view the site on whichever browser they choose. A colorful jquery promo slider showcases special pictures of their food and current specials and there are social network share icons on the site to make it easy for visitors to share Picchi Pacchi pages on all the most popular social media platforms. Here's to 20 more years of Picchi Pacchi greatness!
Similar Food and Dining Website Layouts
The items below are listed in the food and dining category of our
layouts database
. Your website can look like just about any of the options below when we are Your-Web-Guys.
Make Us Your-Web-Guys Today

Step 1: Tell us about your business
Portfolio Categories
This is a categorized list of the clients we have currently online.
Success Studies
View More