ProActive Leadership Group
Consultant Website Design
http://www.resultsimproved.com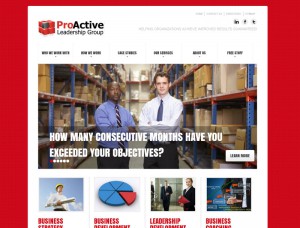 This business coaching and consulting firm has a fantastic new look due to our re-design.  The site they had before was one of those do-it-yourself solutions that are very inexpensive, but not very robust for a company as advanced as this one.  They had a ton of excellent content, but the display of it was a bit lacking because of the do it yourself solution they had been using and it was time to take it to the next level.
First off, we set them up with our standard content management system so that they could make updates easier.  Then we created a new responsive web design so that it would look good no matter what device was being used to view it.  Finally we set up a matching facebook page, matching google plus page, matching youtube channel, and a matching twitter page so that the branding would be cohesive throughout all of their marketing efforts.  The final touch was to integrate everything through a social media buffer and now their site is ready for them to grow into the forseeable future.
Similar Consultant Website Layouts
The items below are listed in the consultant category of our
layouts database
. Your website can look like just about any of the options below when we are Your-Web-Guys.
Make Us Your-Web-Guys Today

Step 1: Tell us about your business
Portfolio Categories
This is a categorized list of the clients we have currently online.
Success Studies
View More