Texas Hydrocoating
Business Website Design
http://www.texashydrocoating.com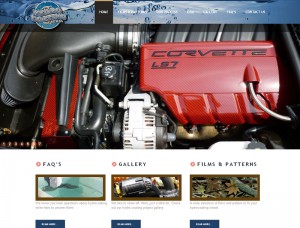 Ever wondered how some camping or hunting equipment had the exact same camouflage pattern on it as the guy standing next to it? It is done through a process called hydrocoating. Nope, I didn't know what it was called either, but now that we have redesigned their dated website, I have an intimate knowledge of the practice.  It really is fascinating because they can take a pattern and coat just about any item with it seamlessly.  We set them up with a content management system that features a nice photo gallery system so they can show off their amazing work.  We also put on social network share icons because if someone sees it they prolly wanna share it too!
Similar Business Website Layouts
The items below are listed in the business category of our
layouts database
. Your website can look like just about any of the options below when we are Your-Web-Guys.
Make Us Your-Web-Guys Today

Step 1: Tell us about your business
Portfolio Categories
This is a categorized list of the clients we have currently online.
Success Studies
View More