Truly Noble Services Inc
Home Improvement Website Design
http://www.trulynobleservices.com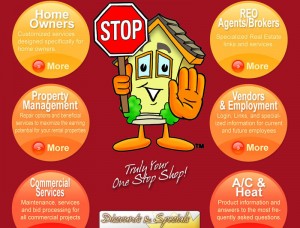 Specializing in Real Estate Maintenance, but also doing work in several other areas, this company showcases their many products and services with a Guestbook to allow customers to give feedback as well as a very nice inline flash intro
Update 12-28-2010 Complete Redesign
Their growing business needed a better way to showcase all the different services they provide.
The problem was that there were so many services catering to so many different demographics that one website would be too complicated to navigate.  However, they did not want to have to update multiple websites with the same information, not because the same information wasn't important to each one, but because they didn't have the time to do it over and over again.
The solution was to set up a content management system or CMS that would not only do the normal things that a CMS does, but also create and maintain content and pages for five completely different  layouts on what is known as subdomains.  Now there is a splash page at the root of their domain, and then their surfers click on whichever subdomain section of the new website to view all the different content and information catering to their specific area of interest.   The list of Subdomains is below, each one has different content, graphics, and structure but all are controlled by one administrative back end.  It was the perfect solution to their needs and now they can get the information to one or all or any combination of their sites as needed.

Similar Home Improvement Website Layouts
The items below are listed in the home improvement category of our
layouts database
. Your website can look like just about any of the options below when we are Your-Web-Guys.
Make Us Your-Web-Guys Today

Step 1: Tell us about your business
Portfolio Categories
This is a categorized list of the clients we have currently online.
Success Studies
View More