Trust Newman
Website Design
http://www.trustnewman.com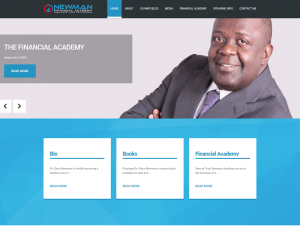 This site owner commissioned Your Web Guys to set up a brand web presence for his vision to help arm the masses with information on organizing their finances while also showcasing his other activities. Our team put together a responsive web design with a content management system that houses a way to easily purchase textbooks he's written; a blog to keep in touch with visitors who turn into followers, customers, and students; an event calendar to show his speaking engagements and events; an upcoming financial academy learning management system; jquery promo slider for broadcasting big or interesting news at the top of his page in vivid color; a photo gallery for easily sharing pictures of events; a video gallery for sharing educational and site-related videos; social media buffer that automatically sends blog posts to his matching Facebook page, matching Google+ page, and matching Twitter page. His site is packed with a lot of the features Your Web Guys can offer to our customers!
Similar Website Layouts
The items below are listed in the category of our
layouts database
. Your website can look like just about any of the options below when we are Your-Web-Guys.
Make Us Your-Web-Guys Today

Step 1: Tell us about your business
Portfolio Categories
This is a categorized list of the clients we have currently online.
Success Studies
View More