Visit Jefferson Texas
City Portal Website Design
http://www.visitjeffersontexas.com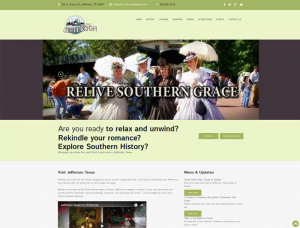 The City of Jefferson is nestled in the heart of the Piney Woods region of Texas and it is steeped in history! Your Web Guys was happy to help this historic city with a unique portal that staff, residents and visitors can enjoy. Set up on a content management system, their site has a responsive web design with high cross-browser compatibility. They are able to make use of an integrated blog that is linked with automatic posting via a social media buffer to their Matching Facebook Page, Matching Twitter Page, and Matching Google+ Page. The jquery promo slider on the site is colorful, informative, and easy for their staff members to update when there's new information to share. The events calendar in the sidebar keeps visitors informed of what's happening around the city!
Similar City Portal Website Layouts
The items below are listed in the city portal category of our
layouts database
. Your website can look like just about any of the options below when we are Your-Web-Guys.
Make Us Your-Web-Guys Today

Step 1: Tell us about your business
Portfolio Categories
This is a categorized list of the clients we have currently online.
Success Studies
View More