Get a mobile version of your website at no charge*!
Want in on our exclusive offer? It's easy, just fill in your info below and then check your email!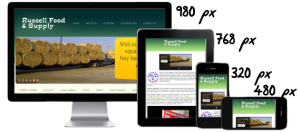 In today's mobile society a website designed for smaller screens is a must if you want to connect with all of your potential clients. A mobile version of your website will show all the same content of the desktop version, but with larger text, easier to click links and buttons, and faster loading graphics. Click on the image above to see how one website Your-Web-Guys made looks in different devices.
Fill out the form above to get a coupon for a free mobile version of your new website... no foolin'!