Electrical Services Website Design
http://www.aidelect.com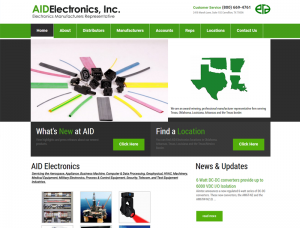 AID Electronics offers professional representation to leading manufacturers of electronics/electro-mechanical components and power supplies servicing Texas, Oklahoma, Arkansas, Louisiana and Texas/Mexico Border.  When they decided they wanted a redesign of their site, they came to Your Web Guys for assistance.  We supplied them with a crisp, responsive web design based on a popular content management system.  Their new site comes equipped with photo galleries, a blog, social network share icons, a jquery promo slider for showcasing their featured products.  With high cross-browser compatibility, most visitors are able to access their informative site with ease no matter the size of the screen.  AID Electronics has a modern site that is in compliance with today's mobile-centric viewing styles.
Similar Business Website Layouts
The items below are listed in the business category of our
layouts database
. Your website can look like just about any of the options below when we are Your-Web-Guys.
Make Us Your-Web-Guys Today

Step 1: Tell us about your business
My company...