Agricultural Website Design
http://www.allaroundfeedandvet.com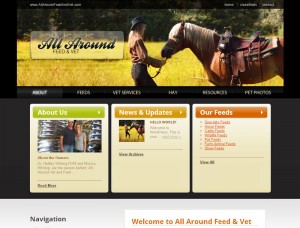 Yet another nice clean Agricultural site for one of the PR/Marketing firms we work with. We set up the standard content management system with customizations to make it easier to use and update for the client. We also set up an additional domain for their veterinary services page. Now if you go to http://www.allaroundvetandfeed.com it will take you directly to the vet page while if you visit their regular domain it takes you to the regular home page... pretty nifty!
Similar Agricultural Website Layouts
The items below are listed in the agricultural category of our
layouts database
. Your website can look like just about any of the options below when we are Your-Web-Guys.
Make Us Your-Web-Guys Today

Step 1: Tell us about your business
My company...