Arlene Gale
Authors Website Design
http://www.arlenegale.com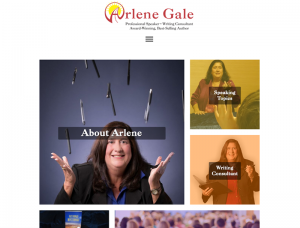 This up and coming, award-winning author and lifestyle speaker was in need of a site redesign and Your Web Guys was chosen to help her turn her web presence into an interactive and engaging place to be.  Based on a content management system that is traditionally easy to use, she now has a robust site full of features that will showcase her books, podcasts, webinars, and speaking engagements.  She has a colorful and unique blog, a promo slider for placing interesting news, an events calendar for ease of tracking where she'll be and where she's been, and more!  The site has a responsive design, fantastic cross-browser compatibility and integration with popular social media platforms for ease of sharing.
Similar Authors Website Layouts
The items below are listed in the authors category of our
layouts database
. Your website can look like just about any of the options below when we are Your-Web-Guys.
Make Us Your-Web-Guys Today

Step 1: Tell us about your business
Portfolio Categories
This is a categorized list of the clients we have currently online.
Success Studies
View More