Website Design
http://www.backyardwindmills.com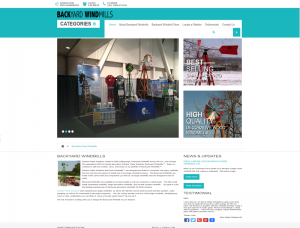 The Backyard Windmills owner was ready to take his website from outdated and not so easy to navigate to a brand new responsive web design set up on a content management system.  His modern, new site can now showcase the windmills he has for sale in vibrant colors because of the jquery promo slider Your Web Guys installed and he now has a blog that will keep the search engine bots coming back to his site for more.  Better search engine optimization is the name of the game along with social media integration on all the most popular platforms through the social network share icons on all pages of his site.  Cross-browser compatibility and showing well on a wide range of mobile devices makes this new site ready for doing business in today's competitive markets.
This website design was added to our portfolio on Tuesday, August 9th, 2016 at 9:16 pm and is also featured in the folloiwng categories
Outdoor
,
Patio & Outdoor Decor
Similar Website Layouts
The items below are listed in the category of our
layouts database
. Your website can look like just about any of the options below when we are Your-Web-Guys.
Make Us Your-Web-Guys Today

Step 1: Tell us about your business
My company...