Wholesaler Website Design
https://www.apbenterprises.net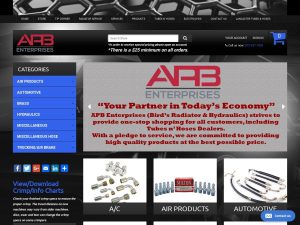 APB Enterprises is also known as Birds Radiator.  A pillar of the community in Waxahachie, Birds Radiator expanded recently and partnered with one of our other clients Tubes N Hoses to offer the parts that different radiator shops need for custom work that they cannot manufacture themselves.
The Problem
Birds Radiator and therefore APB Enterprises didn't have a web presence at all, but with the need to provide the entire nation and even the world with the custom parts that no one else supplies, they needed one desperately.  To complicate the process they had different price points for each of their clients as well as different payment and shipping needs for each one of them.  That made a normal catalog system insufficient for their needs.  Their catalog has hundreds of thousands of products so the system they needed had to be easy to use so they could easily add and modify the products in house as needed.
The Plan
Along with the Tube N Hoses website redesign, they decided that the APB site would provide the actual inventory while Tubes N Hoses would provide the systems to engineer them.  That way if someone didn't want to purchase the entire Tubes N Hoses system they could still get the parts that it can create on a case by case basis through APB Enterprise' site.
The Solution
We created a responsive website design for the content management system that will not only help them market the parts they are manufacturing, but also will allow folks to purchase them directly through the site.  The e-commerce catalog system we set up enables them to do that.  As with most wholesalers, they needed the ability to have multiple payment methods such as PO's or COD as well as the standard paypal or regular credit card processing.  The system we created allows each customer to be assigned to a different group which means the pricing, shipping, and payment processing will be correct for them no matter what the contract terms are.  Now when someone orders a part the order goes to their production guys and is fulfilled without any human interaction with the clients whatsoever.
Similar Business Website Layouts
The items below are listed in the business category of our
layouts database
. Your website can look like just about any of the options below when we are Your-Web-Guys.
Make Us Your-Web-Guys Today

Step 1: Tell us about your business
My company...