City of Hillsboro
City Portal Website Design
http://www.hillsborotx.org/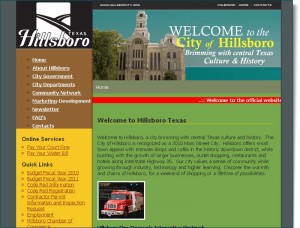 The seat of Hill County now has a site that not only has all the information its citizens need, but an attractive new layout to boot!  With an integrated Content Management System the good folks at city hall can issue as many updates as they need to as well as assigning as many users from different departments as needed to do them as well.
Update 01-12-2009
The Fire Department wanted an interactive fire truck for kids and other folks who were interested to be able to see what is inside and loaded on the outside of one of their engines.  We in association with the fire Chief produced a great interactive flash program that they can highlight on their site.  Check out out on this page, click on the interactive fire truck link on the right side
Similar City Portal Website Layouts
The items below are listed in the city portal category of our
layouts database
. Your website can look like just about any of the options below when we are Your-Web-Guys.
Make Us Your-Web-Guys Today

Step 1: Tell us about your business
Portfolio Categories
This is a categorized list of the clients we have currently online.
Success Studies
View More