Dallas Emergency Dental
SEO Specific Website Design
http://www.dallasemergencydental.com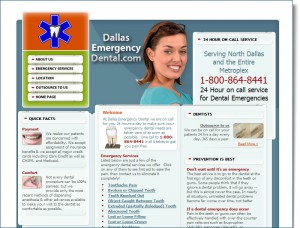 A site made specifically for search engines, this extension of Williams Dental Associates is designed to specifically catch those folks who have a dental emergency and look for help online. Packed with first aid tips and keyword rich advice it will rank in the top ten keywords very soon for each of the page titles it has. No fuss, no muss, no fancy scripting, just hard coded SEO for one of our best clients.
Similar SEO Specific Website Layouts
The items below are listed in the seo specific category of our
layouts database
. Your website can look like just about any of the options below when we are Your-Web-Guys.
Make Us Your-Web-Guys Today

Step 1: Tell us about your business
Portfolio Categories
This is a categorized list of the clients we have currently online.
Success Studies
View More