Dallas Executive Association
Associations Website Design
http://www.dallasexecutives.com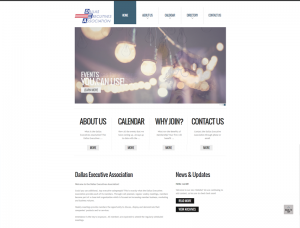 The Dallas Executive Association was ready for an improved, modern and responsive web design for their website and Your Web Guys delivered by customizing their choice of design to the needs of  their association with a content management system that makes the ongoing maintenance and presentation of their membership and business directory information a breeze!  They are now able to update and display relevant parts of their business to the public with a maximum amount of control.  The site comes equipped with a blog for keeping members and visitors current on association news, a jquery promo slider for pointing out special information on the site, and newsletter capability with easy email sign up and capacity to send to lists from the backend of their own site.  The site has high cross-browser compatibility and social network share icons that keep them connected to the most popular social media platforms!
Similar Associations Website Layouts
The items below are listed in the associations category of our
layouts database
. Your website can look like just about any of the options below when we are Your-Web-Guys.
Make Us Your-Web-Guys Today

Step 1: Tell us about your business
Portfolio Categories
This is a categorized list of the clients we have currently online.
Success Studies
View More