Grapevine Golf Cars
Transportation Website Design
http://www.grapevinegolfcars.com/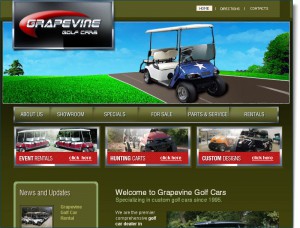 After originally contracting a new site from a company in India, Grapevine Golf Cars came to us in desperate need of help. We worked with them for quite some time to develop a website that has everything they need presented in a way that will make them money over the long term. A Content Management System rounds out the installation and integration they needed.
Similar Transportation Website Layouts
The items below are listed in the transportation category of our
layouts database
. Your website can look like just about any of the options below when we are Your-Web-Guys.
Make Us Your-Web-Guys Today

Step 1: Tell us about your business
Portfolio Categories
This is a categorized list of the clients we have currently online.
Success Studies
View More