Agricultural Website Design
http://www.moralesfeedandsupply.com/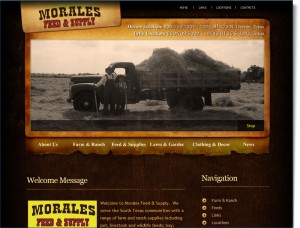 A great example of how a website can be both professional and whimsical at the same time. This Feed & Supply store needed a way to show their personality without looking too amateurish. We delivered a content management system with an integrated event calendar so that they can list what is going on in the areas they serve.
This agricultural website design was added to our portfolio on Thursday, November 25th, 2010 at 6:10 am and is also featured in the folloiwng categories
Agricultural
,
Community Focus
,
Retail
Similar Agricultural Website Layouts
The items below are listed in the agricultural category of our
layouts database
. Your website can look like just about any of the options below when we are Your-Web-Guys.
Make Us Your-Web-Guys Today

Step 1: Tell us about your business
My company...