Imperial Limo
Event Needs Website Design
http://www.my-dfw-limo.com/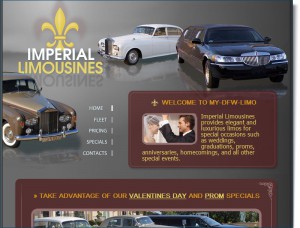 Our first finished work of '07 includes a javascript sildeshow and, in our humble opinions, some great graphics work make this start up limousine company look very nice indeed!
Update 6-3-2009
After a few years not for public rent, Imperial Limousines has come back online with a new domain and price structure... welcome back guys!
Similar Event Needs Website Layouts
The items below are listed in the event needs category of our
layouts database
. Your website can look like just about any of the options below when we are Your-Web-Guys.
Make Us Your-Web-Guys Today

Step 1: Tell us about your business
Portfolio Categories
This is a categorized list of the clients we have currently online.
Success Studies
View More