Outdoor Water Solutions
Agricultural Website Design
http://www.outdoorwatersolutions.com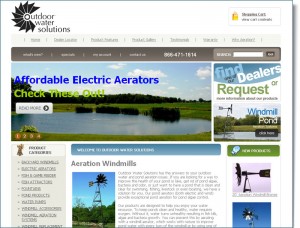 One of the largest pond aeration companies in the united states, Outdoor Water Solutions specializes primarily in windmills and other pond needs for agriculture. They had a website that was performing well for them, but it was outdated and in need of major scripting changes to their shopping cart section. We installed a content management system so that they could reap the search engine benefits of blogging and constant updating of their website as well as a fully featured ecommerce catalog suite that will make purchasing their products much easier for their clients. Not only does each product now have a good looking page to display its features and photos on, but with the CMS integration we are able to display their specials and newest products throughout the website. This enables their users to find the content in their blog through search engines and then go right to the catalog which will help their bottom line directly.
Similar Agricultural Website Layouts
The items below are listed in the agricultural category of our
layouts database
. Your website can look like just about any of the options below when we are Your-Web-Guys.
Make Us Your-Web-Guys Today

Step 1: Tell us about your business
Portfolio Categories
This is a categorized list of the clients we have currently online.
Success Studies
Mansfield ISD Foundation
New layout for mansfieldisdfoundation.org A Complete Content Management System, an integrated Calendar, and multiple ...
Read More
Russell Feed
New version of Russell Feed's Website This multi-location feed company not only needed a better ...
Read More
View More
Testimonials