ReMARKable Affairs
Food and Dining Website Design
http://www.remarkableaffairs.com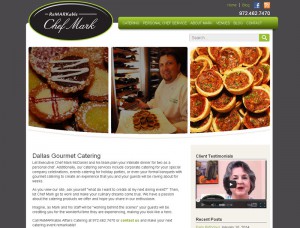 One of the greatest catering companies in the DFW Metroplex, this company already had a pretty good website from another design firm.  Chef Mark is a fantastic cook and has an operation that can not only cater or serve you in one of their two different locations, but they can also deliver your meals through their personal chef service.  We didnt build this one, but we did get it out of some hot water that their previous web guys got them into.  Just before we got the job, the previous company had allowed the site to get hacked.  We swooped into action and not only secured and updated the old installation of the base script, but also scrubbed every file of malicious code and worked with search engines to make sure they did not list the site as a one not to go to.
The system they had with their original host is the same our standard content management system.  However, if you dont have someone updating and monitoring your code you can get hacked and that is when you need us, just like Chef Mark did.
Similar Food and Dining Website Layouts
The items below are listed in the food and dining category of our
layouts database
. Your website can look like just about any of the options below when we are Your-Web-Guys.
Make Us Your-Web-Guys Today

Step 1: Tell us about your business
Portfolio Categories
This is a categorized list of the clients we have currently online.
Success Studies
Mansfield ISD Foundation
New layout for mansfieldisdfoundation.org A Complete Content Management System, an integrated Calendar, and multiple ...
Read More
Russell Feed
New version of Russell Feed's Website This multi-location feed company not only needed a better ...
Read More
View More
Testimonials