Website Design
http://www.silverdollarsounds.com/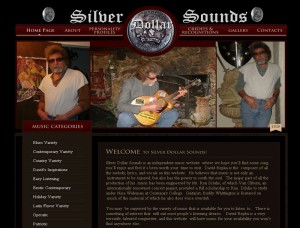 This site has been in progress for some time, but all the content has been added and all the music files are set up for download so introducing the new and improved Silver Dollar Sounds!
We did quite a bit on this one.  It is based on our Musician CMS, which includes a paypal mini-cart which allows users to purchase and instantly download mp3 files and even albums instantly and securely.  The instant download function is unique in that it only allows the download once.  It does it by first processing the payment and then sending an email to the purchaser with a unique link that only works once then never again.  This is so folks cannot post a link on some forum somewhere and have everyone download the file over and over again.
The music products are categorized and cross referenced by album so users can listen to a sample before they purchase and if they like the song they can check out the album and get a better deal by downloading more than one song at a time.
This client also had a rotating silver dollar on his old site.  This was an important part of branding his music, but it was done in an old animated gif format that was clunky and choppy in the way it was displayed.  We took that original gif and added it to the flash navigation so that the rotation is nice and smooth
This website design was added to our portfolio on Wednesday, July 4th, 2012 at 8:58 am and is also featured in the folloiwng categories
Artist
,
Holiday
Similar Website Layouts
The items below are listed in the category of our
layouts database
. Your website can look like just about any of the options below when we are Your-Web-Guys.
Make Us Your-Web-Guys Today

Step 1: Tell us about your business
My company...