Medical Website Design
http://www.superiorsmiles.net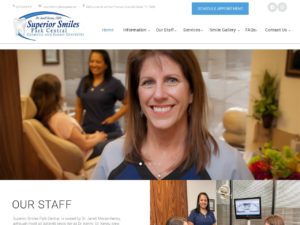 Superior Smiles is a high quality at affordable prices dentist for the entire family. Not only does Dr. Jenelle Kenny (she spells that last name wrong btw) provide superior services, she and her staff also take care of their patients like they are members of the family. From normal cleanings and checkups to full range cosmetic dentistry and everything in between, Superior Smiles lives up to its name providing the best care in Dallas dentistry.
THE PROBLEM
Their old website was not providing the same level of quality that their practice did.  It was outdated and not mobile-friendly.  Worst of all, it didn't provide much in the way of search engine traffic.  What little traffic it did get didn't turn into much business because of the lackluster image and first impression it provided.
THE PLAN
We needed to come up with a fresh new design that used responsive technology to be accessible on different sized phones and tablets as well as regular monitors for desktop computers.  In addition, we needed to set up a system that would help Dr. Kenny add content to her website on an ongoing basis.  That would help with search engine traffic and provide more information to her current and future patients as well.
THE SOLUTION
We worked with Dr. Kenny and her staff to develop a fresh new look as well as added content and functionality to it too.  That includes a content management system so she can blog about dentistry on an ongoing basis.  That will get the search engine traffic she needed as well as provide that industry authority style of site to attract new patients to schedule appointments.  In addition, we integrated an online booking form so that scheduling those appointments would be easy as pie for the patients as well as her staff.  The form integrates directly with their front of house systems to keep her staff focused on providing the best care possible, not doing data entry over and over again.
This medical website design was added to our portfolio on Thursday, May 24th, 2018 at 12:00 am and is also featured in the folloiwng categories
Cosmetics
,
Health and Beauty
,
Medical
Similar Medical Website Layouts
The items below are listed in the medical category of our
layouts database
. Your website can look like just about any of the options below when we are Your-Web-Guys.
Make Us Your-Web-Guys Today

Step 1: Tell us about your business
My company...