Truck Sales Website Design
http://www.texasstartrucksales.com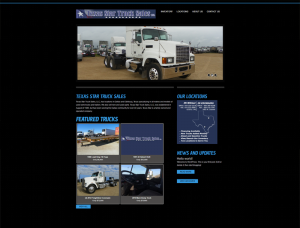 Texas Star Truck Sales needed an easier way to showcase their inventory and keep it current themselves.  We catered to their needs by merging the ease of a popular content management system with a picture-based truck dealership management system. Now multiple members of their staff are able to logon and keep the site up to date with no coding knowledge.  The site has a responsive web design, great cross-browser compatibility, a colorful jquery promo slider, and a blog for keeping visitors informed.  Each of their trucks for sale can have their own photo gallery and the locations page has interactive maps for customer convenience!
This truck sales website design was added to our portfolio on Thursday, July 24th, 2014 at 5:50 pm and is also featured in the folloiwng categories
Business
,
Truck Sales
Similar Business Website Layouts
The items below are listed in the business category of our
layouts database
. Your website can look like just about any of the options below when we are Your-Web-Guys.
Make Us Your-Web-Guys Today

Step 1: Tell us about your business
My company...