The Complete Ensemble
Shopping Website Design
http://www.CompleteEnsemble.com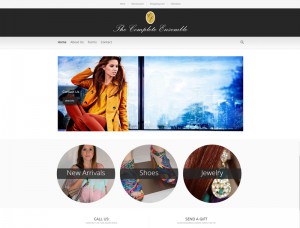 This clever Mother/Daughter duo came up with a great idea for a shopping site that would satisfy the needs of many women who don't have time to shop for all the pieces of a complete outfit.  The Complete Ensemble is an online shopping environment that puts together individual pieces into full outfits that can purchased as a unit.  They came to Your Web Guys for assistance with setting up an easy-to-use content management system and online catalog of their products featuring inventory management control and the ability to bundle their items for cost savings to their eager shoppers.  We were happy to set them up with a blog for keeping in touch with current customers and prospective customers and social media share icons that make it easy for visitors to share TCE news on the web across all the most popular platforms.  The brand new Complete Ensemble website has a modern, responsive web design with great cross-browser compatibility, and a vibrant jquery promo slider that grabs a visitor's attention right away.
Similar Shopping Website Layouts
The items below are listed in the shopping category of our
layouts database
. Your website can look like just about any of the options below when we are Your-Web-Guys.
Make Us Your-Web-Guys Today

Step 1: Tell us about your business
Portfolio Categories
This is a categorized list of the clients we have currently online.
Success Studies
Russell Feed
New version of Russell Feed's Website This multi-location feed company not only needed a better ...
Read More
Mansfield ISD Foundation
New layout for mansfieldisdfoundation.org A Complete Content Management System, an integrated Calendar, and multiple ...
Read More
View More
Testimonials