Publisher Website Design
http://www.baotreonline.com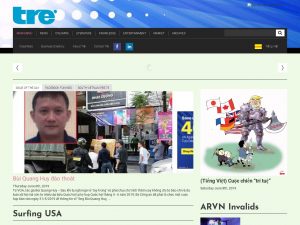 One of the premiere Vietnamese language magazines, Tre Magazine is based in Garland Texas.  Their readership includes Vietnamese-Americans and their families throughout all 50 states and beyond.  In an effort to streamline their online version as well as get new functionality to appeal to younger readers they contracted Your-Web-Guys to create a whole new skin and publishing system for their website.
THE PROBLEM
Their old site was a DIY solution that one of their employees had been saddled with setting up.  While he did an amazing job, the system was collapsing under its own weight.  They have a TON of content and the sheer volume of it was causing problems in how to keep it organized.  In addition, they needed to be courting new and younger readers who didn't always speak Vietnamese even though they were interested in the news coming from there.  Add to that the need to give advertisers better information regarding click-through numbers and impressions and our work was cut out for us.
THE PLAN
The first order of business was to create a system that would handle the content needs.  Then we would address importing all that old content into the new system and get it displayed in a way that would be easiest for their readers to digest.  Once that nut was cracked, we would focus on the multi-lingual capabilities so that the entire site could be viewed in English or Vietnamese.  We planned on adding an ad server to the system which would allow their advertisers the ability to view their stats and even update their ads as needed.
THE SOLUTION
We created a new layout that allows them to change which category of articles is being displayed in what section of their site instantly.  This enables them to change the way the content is displayed in real time as their readers need to see new information.  The organization of the content on the backend is more intuitive now too which enables their writers to categorize and cross-reference the articles they write more efficiently.  We imported over seven gigs of archived content into the site and reorganized it to be used in this new system.  They were able to go in and add English translations to much of it and will be able to add them on the fly in the future.  Now with the push of a button, the entire website will change from English to Vietnamese and back again so their readers can view the content in the way that is it most comfortable for them.  The Ad server we set up is completely integrated with the website so that they can show ads on the loading of each page based on a weighted campaign or by click or impression for the advertiser.  This enables them to bring more value to their ad placements and be able to charge for them.  Advertisers can also renew their campaigns and even pay for more clicks/impressions without ever dealing with an employee.  Not to mention that all of it is automated now so their ad executives spend more time selling and less time administrating the ads they sold.
Similar Publisher Website Layouts
The items below are listed in the publisher category of our
layouts database
. Your website can look like just about any of the options below when we are Your-Web-Guys.
Make Us Your-Web-Guys Today

Step 1: Tell us about your business
My company...