You can now link your YouTube channel to a Google+ page—one that can use a business or other name. You can start the process by going to your advanced account settings and clicking Connect with a Google+ page. You'll be presented with a few options: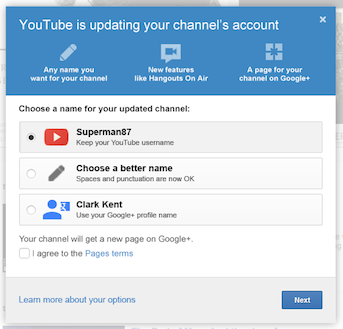 The option you choose will become the new name for your YouTube channel.
Your Google+ pages, If you have any

If you already have any Google+ pages, you'll see them listed here. If you choose one of these, your YouTube channel will be renamed to match the page. If the Google+ page has any other managers, they will be able to manage the channel as well.

I have a Google+ page, but it doesn't show in the list! This means that your YouTube channel's Google Account is not a manager of that Google+ page. You'll need to add your Google Account as a manager of the page.

Your current YouTube username. This will set up a new Google+ page for your channel with the same name. Your YouTube name won't change.
"Choose a better name" lets you enter a new name. This will set up a new Google+ page for your channel with that name. There are no name restrictions—get the name you always wanted!
If you have a Google+ profile, the last option will let you link your channel with your Google+ profile instead of a page. If you're not sure, learn more about whether to choose a profile or a page.
Once you've chosen a page option, click Next and that's it - your YouTube channel is now linked with your Google+ page.
Please click here if this helped you.
5 people found this helpful.
Category: Social Media Tutorials

← FAQ's