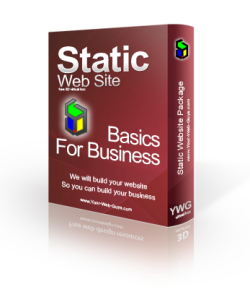 Our most basic package for those businesses who know they need to be online, but are not quite sure why.  It is simple, quick to create, and easy to maintain.  We take care of all the dirty work so all you have to do is tell us what content you want on it.  We will make it look good, load fast, and found easily so your clients will get the most out of it.
Includes all of the following:
Domain registration in your name
4-5 page website (extra pages $50  each)
Contact page with customized responses and error messages
Any and all photography needed
First month of hosting
Digitization/creation of your company logo
Search Engine optimization
Market research for traffic generation
Customized graphics
Dynamic portions of site can be created at the script add on rate
Common Static Package Add On's
Here are just a few of the scripts that can be added to your Static Website
Click on any of the below to find out more about that specific script and examples of its use.
Make Us Your-Web-Guys Today

Step 1: Tell us about your business
My company...