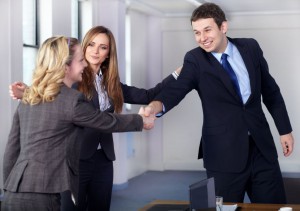 Independent sales reps have never had a job opportunity like the one that Your-Web-Guys offers them.  For the longest time, B2B sales people who rep  products and services for the small business owner have not been able to provide a solution to their clients for the one thing that every business needs... a website.  The internet has been the exclusive domain of geeks and graphic designers since the beginning.  Trying to rep for a firm that has no idea how to sell their own product is a problem.  That is not the case when you represent Your-Web-Guys.
What that means to you
This is a lucrative sales opportunity for the self motivated independent rep.  If you have business to business sales experience and are self motivated, then you could make serious money with our system. You will be responsible for qualifying prospects, scheduling appointments, selling the concept, closing the sale and maintaining the client relationship. We will be responsible for delivering and supporting the packages and services you sell. This position can generate a six figure commission for you.
Highlights

No Costs to You. This is not MLM or anything weird like that.  It is a real product/services line with a real company in the US.

High Commissions. Our pay plan is second to none.  You get paid the next day after you collect payment, up to and including $500 per sale.

Residual Income. Don't go from hero to zero each month.  Build your income stream with each and every sale with monthly residual payments.

Monthly Bonuses. Starting at 10 units sold, you get 4 more until 20 units when your total bonus is $2,800.  There is no ceiling after that.

Marketing Materials. All of the materials you need from business cards to product slicks to brochures are available as needed.
We are business people, not computer geeks.
We have taken the world of web design that was stuck in the early part of last decade and moved it into a process which has specific time frames and easy to understand pricing.  Just like the automobile industry at the turn of the previous century, web design used to be a one-off proposition where each car was made by hand from start to finish by one or a team of technicians.  It took too long and cost too much until Henry Ford invented the assembly line.   That process introduced efficiency and cost savings that were unimaginable under the old system.  While a website cannot be built on an assembly line, we have been able to create an efficient and cost effective process that generates excellent results while keeping costs down.  Now you can take the power of that concept and turn it into cold hard cash for your pocket book.
Built by salesmen for salesmen.
We not only re-imagined the process of making a web site, we took a completely novel approach to selling one too.  Our founder is a life long salesman who represented everything from used cars to security systems and everything in-between.  He took the years of experience he had gained and applied it to a new industry in 2004 when he opened Your-Web-Guys.  Everything from the commission structure to the residual income you will make to our customer service process to the production and the pricing, it has all been designed for one thing... making it easy to sell and easy for you to make big money.
High quality marketing materials for you to use.
Our graphic design department has made everything you need from product slicks to business cards.  Once you have ordered it we will customize it for you and ship it directly to your door within a short period of time.  We want to make sure you have all the tools you need to sell our services and make your bonus.
Easy to use, custom CRM.
We have spent years creating and testing our Client Relationship Management system.  With it, you can interface with the home office easily and efficiently.  That allows you to create quotes, place orders, service your clients, and view your commissions both earned and pending.  It even has prospecting and referral agent tools for you to use if you need them.
Repeat and referral programs.
We know that repeats and referrals are the easiest sales to make, so we have created specific programs to encourage both.  Our referral program is both cumulative and recurring which will get your clients referring their business associates to you like you wouldn't believe.  In addition, we have the Redo Every 2 program, which not only reduces attrition so your residuals stay high, but it also allows you to make money on the redesigns you sell even at the significant discount afforded the client.
Product and prospecting training.
When you decide to represent the packages and services from Your-Web-Guys, we want to make sure you know how everything works.  If you don't know anything about our systems and programs how could you sell them?  We have extensive one on one training for our sales reps available any time online.  You will have a specific trainer who will be on call for you during normal business hours as well as an extensive library of training materials 24 hours a day.
Dont wait!  Become an independent sales rep for Your-Web-Guys Now!