Restaurant Website Design
http://www.hungryplatters.com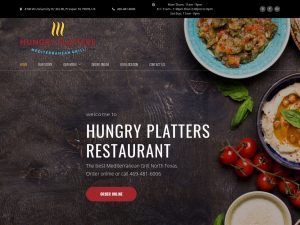 One of the newest and most original restaurants in the growing northern DFW suburb of Prosper, these guys are bringing authentic mediterranean cuisine to north texas.  From baba ganoush to tzatziki sauce to shawarma (Iron Man will be excited) and gyro's, this place has it all.  Go fill up your Hungry Platter and tell em Your-Web-Guy sent ya!
THE PROBLEM
They are a brand new company with a brand new concept in an up and coming town so they needed exposure quickly.  Their website had to be up and online and looking good, but they didnt even know what their menu would be exactly so they needed the works.  Photography, content, online ordering, new point of sale system... everything.  Google maps didnt even know where they were when you put in their address.  There were a lot of problems to tackle.
THE PLAN
While having a website is imperative to any new small business, especially a restaurant, they wanted to have online ordering and integrate it into their POS system so that the ordering process would be as smooth as possible.  Fortunately they chose to go with a fairly modern and flexible pos that had the capabilities we needed to integrate them together.
THE SOLUTION
We developed a really pretty and modern website that featured their food in some fantastic product shots from our in-house photographer.  She worked with them for several hours before they even had their grand opening to get the images of their food looking as delicious as it was in real life.  We also worked with them to decide on how to use the website design and the ordering system to work together in the most pleasing way possible.  It came together using our Restaurant CMS which had the online ordering already, then using their POS' API system (geek speak for connecting two different systems together) we got the orders to show up right on the kitchen's new order screen just like if one of the staff entered an order at the register.  Online payment processing, integrated interactive maps, and a beautiful menu photo gallery all came together in a responsive web design that really fit the bill to a T.
This restaurant website design was added to our portfolio on Wednesday, October 31st, 2018 at 12:00 am and is also featured in the folloiwng categories
Food and Dining
,
Restaurant
Similar Restaurant Website Layouts
The items below are listed in the restaurant category of our
layouts database
. Your website can look like just about any of the options below when we are Your-Web-Guys.
Make Us Your-Web-Guys Today

Step 1: Tell us about your business
My company...