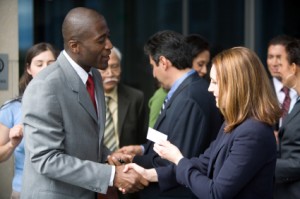 If you have never been to a business networker to promote your small business then you are missing out on a huge opportunity. We are members of several chambers of commerce as well as many small business networking groups in the southern sector of Dallas. Most Chambers of Commerce have leads groups which meet every other week - contact your local Chamber to find out more. We will probably be at one or more every week.
Rise & Shine the Mother of all Networkers in Southern Dallas
Probably the largest networking meeting happens every third Thursday of the month and is called Rise & Shine. Several Chambers of Commerce and their membership gather at 7am to network and trade leads until a little before nine at each meeting. It only costs $2 to attend and breakfast is provided at no additional charge. It is held in a different location every month so check out RiseAndShine.org to find out when and where the next breakfast meeting will be held.
Make Us Your-Web-Guys Today

Step 1: Tell us about your business
My company...