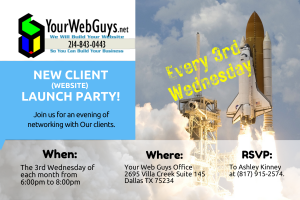 Join us every month for a celebration of the websites we've built in the previous 30 days! At Your Web Guys, we take pride in our work, and what better way to celebrate than by bringing together our clients, partners, and local small businesses for an evening of networking and fun?
Event Details:
Date: Every 3rd Wednesday of the month Time: 6:00 PM to 8:00 PM Location: 2695 Villa Creek Suite 145, Farmers Branch
What to Expect:
Our office is transformed into a vibrant venue for the evening. We provide a full bar with a wide selection of beverages to choose from. You can relax, grab a drink, and enjoy our delicious charcuterie board while mingling with other clients, local businesses, and our team.
The event is designed to foster connections, inspire collaboration, and create a platform for exchanging ideas. Whether you're a client looking to network with other professionals or a small business seeking new opportunities, our launch party provides the perfect setting to make meaningful connections.
Join Us!
We invite you to come and celebrate with us at our next Monthly Website Launch Party. It's an excellent opportunity to connect with like-minded individuals, discover new business prospects, and have a great time in a relaxed atmosphere. Mark your calendar and don't miss out!
For any inquiries or to RSVP, please contact us at [email protected] or call us at 817-915-2574.
Make Us Your-Web-Guys Today

Step 1: Tell us about your business
My company...