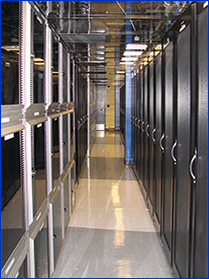 All of our websites are hosted on servers dedicated to Your-Web-Guys clients only.  We do not share bandwidth or processing speed with hundreds of other websites and hosting companies. We insist on this because there is nothing in the world worse than seeing an out of date, slow loading business website. This way, our clients always know that we can update, maintain and monitor their web presence so they can focus on building their business.
About Our Dedicated Servers
Our machines have 3.3 GHz I3-2120 Core2Duo processors, 64 GB SSD + 1 TB SATA2 Hard Drives, and 32 GB of RAM which run on 100 MBPS of UnMetered Bandwidth. We partner with a company in California where we co-locate our machines with hundreds of other servers. This server commune (as we like to call it) allows us to enjoy almost no downtime and complete stability. The building has 100,000 square feet of web hosting machine space which has Data-Grade HVAC systems, redundant uninterruptible power supply's, generator backup and smoke detection/fire protection systems. The 15 million dollar carrier neutral data center is under 24/7 camera surveillance and armed guard patrol. Our servers have access to multihomed connectivity through several top level providers including: Level 3, Savvis, Qwest, MCI, Sprint and Global Crossing so you will always know your site will load quickly and reliably for your potential customers day or night.
What does all that mean?
Basically it means that your business web site hosting will almost never go offline and will always be very quick to download for your clients. Anything less than a nuclear bomb (and maybe even that too) hitting the data center and your sites will be available and running fast.
Make Us Your-Web-Guys Today

Step 1: Tell us about your business
My company...