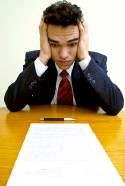 The only person who can speak with authority on your business and products or services is you.  Because of that, the short answer is no we cannot create the actual verbiage and text content for your website. However we can give you some tips and tricks which will help you get started.  If all else fails we do work with several copywriters and content experts who specialize in providing crisp, clean, search engine optimized and well thought out verbiage with only a little input from you to get them started.  They can get a bit pricy, but when we have had clients opt for this in the past they have felt it very much worth the extra cost.
Content Creation Tips:
When writing content for a website there are some things that we can suggest which will make the whole process easier.
Start with major topics
Typically there are five pages which make up your average website.  They are listed below, but if you have different needs they are not set in stone.  Use these pages as major topics and start writing your content from that point.

Home page - consists of a welcome message or possibly a mission statement
About us - information about the company and/or the people who work there
Services/Products - self explanatory, but dont skimp on this one, the more text the better... we will break it down into more pages if it gets too long.
Location - consists of an embedded dynamic google map that will give turn by turn directions to your location from their front door.
Contact Us - usually a form for folks to fill out with specific information you would like to collect from them.  Also includes phone numbers and other means of contact

Write how you speak
When you are speaking to someone about your product or service you have scripts that you more or less go by each time.  Write them down and you have a great starting point for your web content.
The more the better
When it comes to websites and specifically seo content is king.  A picture may be worth a thousand words to a human, but to a search engine spider a picture is just a bunch of pixels.  Only a thousand words are worth a thousand words in the search engine world.  If it gets too wordy we will break it down and make more pages out of your content.
Use your competitors' content as a jumping off point
Although imitation is the most sincere form of flattery, we don't want to copy or plagiarize anyone (if we get a cease and desist order we will yank the content without question).  However, piggy-backing off of others' ideas is not only a good way to get started, it is also a great way to improve upon what they have already started.
Always think F.A.B.
For each of your products and services use the F.A.B. method. It stands for Feature Advantage Benefit. The feature is whatever you want to highlight for that product or service. The advantage is how that feature is not only exclusive to your company, but also how it can directly give them an advantage over their competitors. The Benefit is how it will make them money. Using this time honored approach to selling your products and services will help flesh out your general ideas of what you want to have your website exhibit.
← FAQ's