I found this post on the Bufferapp Blog.  It is full of great information about when and how to post to your social networks.  If you do not have Buffer set up to integrate your website with your social media platforms you definitely want to get it done.  If you dont have time to do it, let us know and we can do it for you if we are Your-Web-Guys.
If you would like to read the original article click here.  
Written by Belle Beth Cooper
One of the things we focus on most at Buffer is the best time to post to Twitter and Facebook. This is because we want to help you get more engagement with your audience, which is beneficial for everyone.
While the best time to post is definitely important, there are some other things to keep in mind. I had a look at what kind of updates work best for Facebook pages to increase interaction and found 7 interesting statistics that you'll probably find useful if you're trying to make your page more engaging.
1. Photo posts get 39% more interaction
Not only do photo posts get more engagement than links, videos or text-based updates, they actually account for 93% of the most engaging posts on Facebook. According to Kissmetrics, photos get 53% more likes, 104% more comments and 84% more click-throughs on links than text-based posts. And as we've mentioned before, self-explanatory photos seem to perform best.
Wishpond's data says that overall, photo posts get 120% more engagement than the average post, and photo albums actually get 180% more engagement. This was a surprising one for me, but it seems that if you have multiple images to share, you'd be better of putting them into a Facebook album than publishing separate photo posts.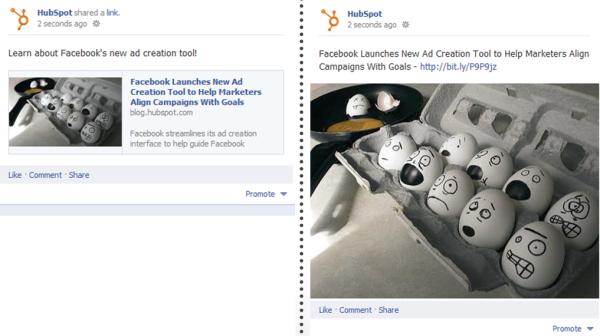 Especially Buffer's new image posting feature let's you right click any image on the web and then share it in full-size to your wall in seconds. No more downloading, uploading nightmare here.
2. Shorter posts get 23% more interaction
Writing shorter posts isn't just handy on Twitter. Keeping your posts below 250 characters can get you 60% more engagement than you might otherwise see. You can even get up to 66% more engagement if you cut it down to less than 80 characters.
Either way, the result seems to be that getting to the point quickly and concisely works best. Perhaps that's why Facebook fans like photo posts so much?
Especially looking at the overall Social Media statistics for other social networks, it's really interesting how this stacks up to other platforms.
3. Using emoticons increases comments by 33%
If you thought emoticons were only for teens, you might want to rethink that idea. According to thisAMEX OPEN Forum infographic, emoticons can make a big difference to your engagement rates. No only do posts with emoticons get 33% more comments, they also get shared 33% more often. Even better: they get liked 57% more often than posts without emoticons.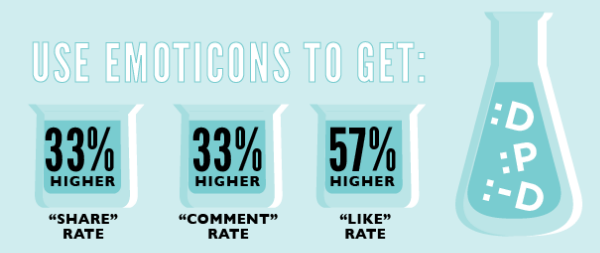 Emoticons tend to add a more human side to your communications, and it seems like this comes across fairly well with users.
Engagement rates on Thursday and Friday are 18% higher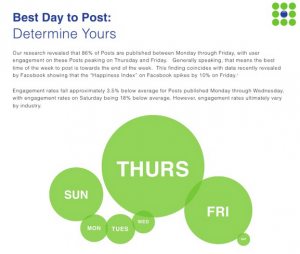 Compared to other days in the week, Buddymedia's study found that engagement rates for Facebook are 18% higher on Thursdays and Fridays. As they put it, "the less people want to be at work, the more they are on Facebook!"
The study also looked at different industries, including sports, retail, automotive and healthcare, to see which days worked best in each industry. Although they did vary, most of them sat around the end of the week, from Wednesday-Friday. Apparently no industry has users that are engaged on Mondays or Tuesdays!
To find out more about the best times to post to Facebook, we've also written an extensive guidethat you might find useful.
5. Question posts get 100% more comments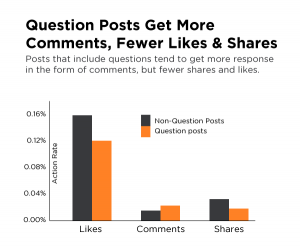 If comments are the kind of interaction you're after, questions might be the way to go. According toan infographic by Kissmetrics, they get 100% more comments than standard text-based posts. HubSpot shares a similar finding, although this data points out that question posts often get fewer likes and shares than other types of posts.
What I found really interesting about this stat is that HubSpot's data also shows which question words attract more comments, with the most popular being 'should,' 'would,' 'which,' and 'who.' This makes me think that closed questions which have a very limited answer option are the highest attractors of comments. Open question words like 'why' and 'how' which make the user think more to articulate their answer sit at the bottom of this chart.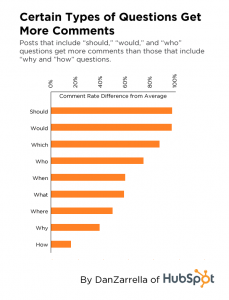 This is especially interesting an points to a stark change in marketing, turning the funnel upside down. In short: Keeping engagement high with your existing customers might be more importantthan trying to find new ones.
When we observe how most updates sent through Buffer perform, we found a similar pattern of greatly increased lift through questions being posted.
6. 35% of Facebook Fans like a page so they can participate in contests
If you're chasing down new fans, a contest seems like a fairly good way to encourage likes. A report from earlier this year showed that 35% of Facebook fans liked Facebook pages specifically to compete in contests. Contests obviously solicit interaction by asking for people to enter. It turns out this can work, as 'caption this photo'-style contests actually bring in 5.5 times more commentsthan regular posts.
In Buddymedia's report, contest-related words like winner, win, entry, contest, enter and promotion were all more likely to engage users.
7. 42% of Fans like a page to get a coupon or discount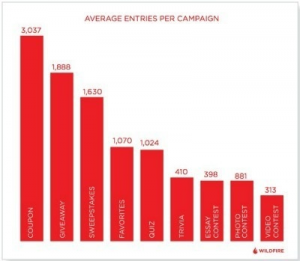 According to Socially Stacked, 42% of Facebook fans like a page in order to get a discount or coupon. A study by Wildfire Interactive showed that coupon-based campaigns received the highest engagement rates. Giveaways and sweepstakes came in just behind coupons as highly engaging post types.
Before I forget, if you're a Buffer user, you can see analytics for Facebook, Twitter and LinkedInright from your dashboard!
In case you found this article helpful, the best follow-on posts for you to read are our complete guide to the latest Social Media statistics, as well as the latest Twitter statistics.
What have you observed has changed the most on Facebook in the last few months? I hope these statistics might be helpful to get your Facebook page on the right track!
Image credits: HubSpot 1 and 2, Track Social, Mashable, Bit Rebels, Buddymedia, Alex E. Proimos
Make Us Your-Web-Guys Today

Step 1: Tell us about your business
My company...