Editor's note: Where is the market putting its advertising dollars?  This article might surprise you: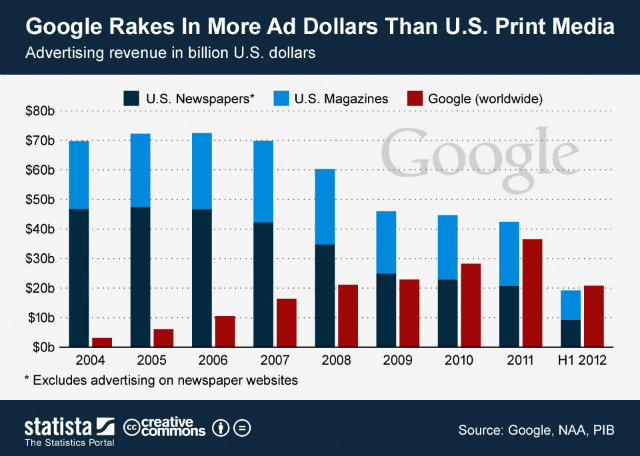 If you work in the print media, you might want to sit down before reading this.
During the first six months of 2012, Google generated more money in advertising revenue than all U.S. print publications combined, as illustrated in the chart above from Statistica. Google brought in $10.9 billion in ad revenue in this time period, while U.S. newspapers and magazines brought in $10.5 billion.
There are a couple caveats to this, however. First off, the data here factors in Google's global ad revenue, rather than just the ad revenue it generates in the U.S., so it's not entirely a fair comparison. Second, Statistica, does not factor in revenue that comes from ads placed on newspaper websites.
Still, the data clearly shows that Google's ad revenue is trending up from year-to-year while print revenue is declining. What's more, as Statistica points out, it's impressive that Google is operating at close to parity with the print industry in ad revenues consider that Google is just 14-years old, while the print industry as we know it has been operating for more than a century.
Seth Fiegerman is a Business Reporter at Mashable, where he covers startups, marketing and the latest consumer tech trends. He joined Mashable in August 2012 and is based in New York.  Before joining Mashable, Seth covered all things Apple as a reporter at Silicon Alley Insider, the tech section of Business Insider. He has also worked as a staff writer at TheStreet.com and as an editor at Playboy Magazine. His work has appeared in Newsweek, NPR, Kiplinger, Portfolio and The Huffington Post.  Seth received his Bachelor of Arts from New York University, where he majored in journalism and philosophy.
To see the full article click here.
Make Us Your-Web-Guys Today

Step 1: Tell us about your business
My company...