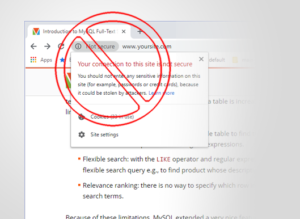 An SSL, or Secure Sockets Layer, Certificate is basically a little piece of code that allows the connection between your computer and the server that the website you are visiting to be encrypted as data is transferred between them.  In the past an SSL certificate was only really needed when the information that was being passed was sensitive, such as credit card numbers or other personal data.  However, even though the functionality and need for an SSL certificate hasn't changed, google and the general public have started to be more and more attentive to the little lock icon in the browsers url bar.
For several years now, Google has been trying to force websites to implement SSL certificates even when sensitive data was not being passed. It all started with its 2014 HTTPS Everywhere campaign whose goal was to raise awareness of the value of SSL certificates. SSL later became a Google ranking signal to further encourage its adoption.
Currently, over two-thirds of all websites are unencrypted, and Google is taking the next steps to change that.  Effective July 2018, Google SSL requirements will be enforced by flagging sites without SSL as unsafe in Chrome.  This update goes beyond adding it to its list of ranking factors only. It fundamentally changes the way web users think about their online security.
Because of this, Your-Web-Guys now no longer provides SSL certificates as an option, they are now standard.
For every new website we build, we will include an SSL Certificate to encrypt the data being passed at no additional charge.  We hate being nickled and dimmed to death so we wont do it to our clients, ever.  If something that used to be an option becomes something that is required, we will include it.  It happened with responsive design back in 2012, and with many other things previously... SSL Certificates are just the latest in the line of additional value we provide to our clients without costing them more money.
There are numerous reasons supporting the fact that having an SSL Certificate is important, but perhaps the most critical one is 'because Google said so.' Nobody wants to experience a drop in search rankings in Google or a negative impact on their business or online reputation. Without SSL, this is likely to happen.
Get your company into a world where your website is not a pain to deal with by making us Your-Web-Guys today, start the process by answering the question below:
Make Us Your-Web-Guys Today

Step 1: Tell us about your business
My company...