Editor's note: It seems that technological innovations are popping up everywhere.  We've seen QR codes, but what are they?  More importantly, how can you use  them to your benefit?  Kate Freeman writes how some businesses are cashing in on this new trend: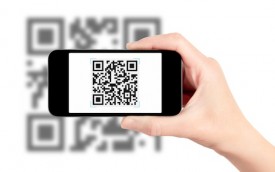 "Is paper cash becoming a collector's item like the Buffalo nickel?
It would seem that way, considering the increase in the number of plastic-only food establishments. A number of restaurants and food trucks make paying with the swipe of a card on a smartphone as easy as foodtruck mini-pies. The latest, and seemingly most convenient, mobile payment option is paying via a QR code.
In San Francisco's Metreon, a gourmet sandwich shop called Split Breadis the latest eatery to offer such service. Each tabletop has a metal stripe with a QR code printed on it. Patrons sit down and scan the QR code with their smartphones to pull-up the digital menu. Customers place their order without ever speaking to a real person. When their order is ready, they pick it up at the counter.
You can also order ahead and grab sandwiches to-go, entering your expected pick-up time online. But one thing you can't do is pay with cash. The manager of Split Bread told me that about 30% of their customers order and pay through the QR codes on the tables. Eventually, they hope to get that number to 100%. But, he said, they might keep a register to two in order to keep the not-so- QR-savvy customers coming back.
David Silverglide, one of the founders of Split Bread, said they wanted to provide a payment option that was seamless for customers, device agnostic and wouldn't force customers to download an app.
Ordering using the QR codes on the table isn't necessarily more time efficient, at least for now — but it is cool. Eventually, Silverglide said it will save time and allow groups of people to avoid lines and the hassle of splitting bills. In the future, you'll be able to sit at a table and have a tab open.
"We want to make sure as the payment space evolves, that we can adapt quickly," he said.
The Melt, a gourmet grilled-cheese sandwich shop that has been popping up with new locations all over San Francisco since its opening in September, began accepting QR code payments about a month after its opening. QR codes let consumers bypass the lines, plus for customers, it can be a fun way to use your smartphone.
"Melt.com online orders are running between 5-10% of all transactions depending on store location," Paul Coletta, CMO at The Melt tells Mashable. Patrons can skip the line and redeem the QR code anytime.
Eateries that eschew cash are common in San Francisco, and food trucks that use mobile payment services such as Google Wallet, PayPal Here or Square to process payments are common place.
But using plastic for every purchase — plus apps that remember your banking information — concerns many customers. After all, information hacks have occurred in the past due to weak security in certain mobile payment systems.
Standing in a food truck line in San Francisco (the food truck used Square), I chatted with a customer who expressed his concern about mobile payments.
"If the guy loses his phone, what happens to that information?" he said. Like many of his friends, he said, he's concerned about mobile security but it's just the way mobile payments are headed. Plus, he added, it is convenient."
Kate Freeman joined Mashable in 2011 as a tech reporter based in the San Francisco office. Kate is an award-winning multimedia journalist; in 2011 she took home a trophy from the California Newspaper Publishers Association for her writing, and was selected for the prestigious Society of Professional Journalist early-career workshop at the Poynter Institute. Before joining Mashable, Kate was a contributing writer for CBS San Francisco and Divine Caroline. She was also the lifestyle editor of the Elk Grove Citizen for two years. She graduated from California State University, Chico with a degree in journalism.
To read the full article click here.
Make Us Your-Web-Guys Today

Step 1: Tell us about your business
My company...