What is Facebook Fans?  We have found a great article about Facebook Fans to give you a better understanding of what exactly it is, what it can do (or don't do) for you, and if its a service that may help achieve your goals.  To check out the original article, click here.
You get what you pay for. Keep that in mind if you're tempted tobuy Facebook fans.
Sites that sell fans ask you to simply enter your page URL, tell the vendor how many fans you want and input your PayPal information.
A few weeks later, you have a few thousand brand new fans!
Anything wrong with this?Everything!
Every fan-selling website, no matter how legitimate and professional it seems, deliversfake fans. These services are always having issues with their PayPal accounts, which often get suspended. Some of the sellers demand payment upfront, and then never contact you again.
(Just to clarify: I'm not talking about social media marketing agencies that manage a fan page or ad campaign. I mean the sites that sell a guaranteed number of supposedly real and targeted fans for a fixed price.)
Most fan-selling websites are just middlemen. They get send your orders to companies in India, Pakistan and Singapore. These outfits use spammy, hacker tactics to provide you your "100 percent real and targeted" fans.
How do I know this? I tested about 10 different fan suppliers and not a single one yielded "100 percent real and targeted fans" as promised. Most turned out to be fake profiles with a few real people mixed in the bunch. I even talked to page owners who'd bought fans and not a single buyer got any increase in sales nor engagement after the purchase.
Notice how the fake likers pictured below have stock photos and oddly constructed names.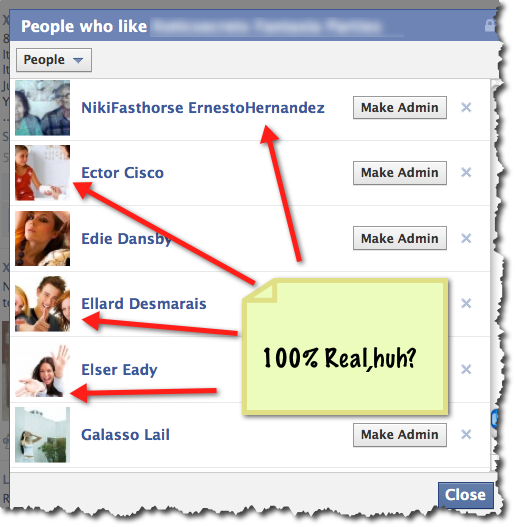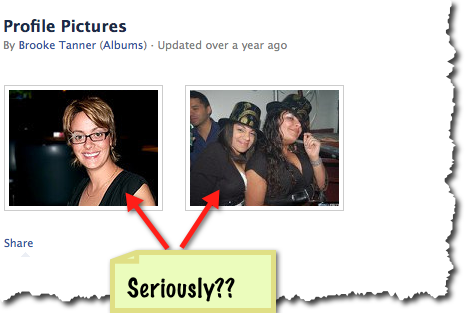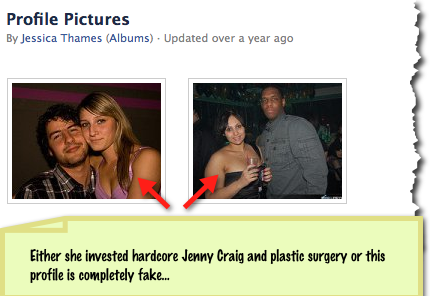 (Click here to see more signs of fake profiles.) In my opinion, the bigger issue beyond the poor quality of fans lies in the mindsets of those who choose to buy them. They are still looking for that magic pill for their business. That mentality never leads to success.
Think about a successful businesses you know of. Do you think it got that way by taking shortcuts and trying out quick fix after quick fix and eventually stumbled upon one that worked? Or did it carefully craft out a working business model, took action and modified their strategy until they got the results they wanted? Most likely the latter.
The kicker is, getting fans for your fan page isn't that difficult! As long as you have a product or service that adds value to people's lives, people will naturally like your page. You just need to know how to use the tools that Facebook gives you to give everyone a chance to learn more about you.
Some ways to do this include:
Facebook ads
Contests and giveaways
Fan-only discounts
A reveal page
Posting great content
Using viral apps
Asking your fans to tell their friends
Promoting your fan page
And guess what happens when you do these things? You end up with a bunch of people who actually like your company and want to use your products and services.
The problem is, a lot of business owners don't want to put in all that work and rather just take the magic pill. It's almost guaranteed that these bought fans the few real ones in the mix will never buy anything from you.
So to everyone else, your page might look awesome because you have a gazillion fans, but you know that you're not making a dime from them. Do you want your business to appearsuccessful or actually be successful?
Tony Thor is the chief executive officer of Social Brawn.
Make Us Your-Web-Guys Today

Step 1: Tell us about your business
My company...