Website Design
http://www.aspireeducationsupport.org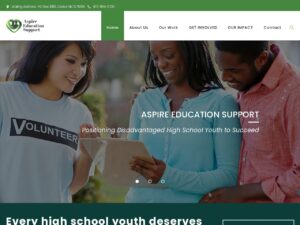 The mission of Aspire Education Support is to prepare youth for success. To offer disadvantaged high school students access to educational resources and equitable opportunities that will change their lives. AES encourages each student to believe in themselves and ASPIRE to be everything they want. They want to be a stable foundation of education and life support from high school to college graduation. AES offers educational and life skills opportunities that can personally transform individuals and positively impact entire communities.
THE PROBLEM
There is no existing website, and the client has no prior experience with websites, so she needed assistance throughout the process, including the creation of site content. They require an easy method of providing information and assistance to disadvantaged high school students, foster children, alternative school students, and juvenile detention center children.
THE PLAN
To create a simple website with information for potential students, partners, and donors. To be able to join or partner with their programs and gain access to their educational resources. The main features that will be added to the website are a donation option and an event booking option.
THE SOLUTION
We created a content management system driven site that allows the organization to effectively provide information access while encouraging each student to believe in themselves and ASPIRE to be all that they desire. We then developed a Donate function to enable donors and partners to assist more individuals in personally transforming and positively impacting entire communities. There is also an event calendar that they can add their events too and an option to upload their blogs.
Similar Website Layouts
The items below are listed in the category of our
layouts database
. Your website can look like just about any of the options below when we are Your-Web-Guys.
Make Us Your-Web-Guys Today

Step 1: Tell us about your business
My company...