Wedding Website Design
http://www.avalonlegacyranch.com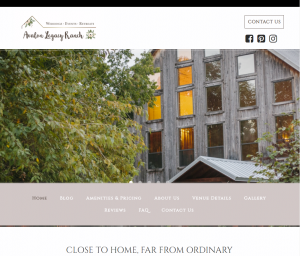 One of the most unique and unimaginably beautiful wedding venues in DFW, they have consistently won awards year after year from the knot and wedding wire not to mention being featured D magazine and page after page of reviews by happy couples and their families.  They provide a one of a kind experience for the lucky folks who use them in McKinney.
THE PROBLEM
Unfortunately their previous website did not give the look and feel that the actual venue did so they were loosing brides and bookings left and right.  They rarely got a call from their website so they only got walk in and word of mouth clients.  They were missing a huge piece of the marketing puzzle.
THE PLAN
They needed excellent photography that wasn't supplied by the multiple photographers that brides employed.  Those shots were, of course, all about the couple, not the venue.  They also wanted to showcase all aspects of their location, not just the wedding chapel and reception rooms.  Their land is gorgeous with rolling hills and manicured gardens.  There are several natural water features and bridges too!  They knew that once a bride saw the location in the right framework then no other venue would do.
THE SOLUTION
We blew the doors off the joint with an image rich and highly search engine optimized website that features lazy load actions on every page.  There are fully implemented and categorized image galleries that show the gardens, the chapel, the bride's and groom's ready rooms, the reception areas, even streaming video that show off their awesomeness in a simple yet elegant responsive web design for their wedding venue.  We created a content management system that allows them to update those images and other text and information as easily as writing an email so their staff spends time booking weddings rather than writing books.  It adds subscribers to their newsletter to drip content to them automatically every month.  We also included FAQ section and reviews as well as a logo slider to showcase all their awards.
This wedding website design was added to our portfolio on Wednesday, August 1st, 2018 at 12:00 am and is also featured in the folloiwng categories
Dating
,
Event Needs
,
Wedding
Similar Wedding Website Layouts
The items below are listed in the wedding category of our
layouts database
. Your website can look like just about any of the options below when we are Your-Web-Guys.
Make Us Your-Web-Guys Today

Step 1: Tell us about your business
My company...