Banks and Banking Website Design
http://www.bb-tech.com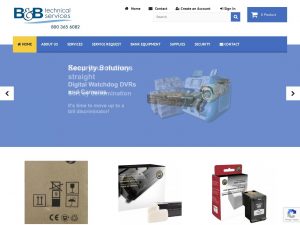 B & B Technical Services provide equipment and supplies to banks across Texas and beyond.  Not only are they the ones who supply those cool money counting machines and anti counterfeit devices, but they also do the hardware for the drive through tubes and speaker systems.  They also supply the consumable stuff that banks use such as ink and atm paper and other supplies.  Its a really neat business that most of us never think twice about.
The Problem
They had a website that was built by a previous employee.  The site was a bit dated, but it had good content.  The problem was it had too much content!  There were product lines and manufacturers who they no longer carried.  The problem was that the employee who set it all up no longer worked there so no one knew how to update their site.
The Plan
They decided that they wanted to kill several birds with one stone.  Not only did they decide to take this opportunity to update their content, but also decided to update the look and feel of the design too.  In addition they also wanted to start offering their products to their clients through an online portal rather than forcing them to call in to order their supplies.
The Solution
They had Your-Web-Guys redesign their site with a content management system which they can use to add and update content to make sure their information was always up to date no matter what employees come and go.  Their new site uses responsive web design technology so that it will respond to the size of the device being used to view it.  That means that no matter how large or small the device is, the new website will look good and fit correctly on it.
We also created an online catalog which is not just a normal e-commerce solution.  It does all the normal shopping cart functionality of processing credit cards and returning real time shipping costs and inventory control of course.  But, in addition, it also has the added benefit of showing different pricing per customer.  Each of their clients has a different pricing and payment structure.  So Bank A employees can order at a specific price point using a PO while Bank B employees pay a different price and can do COD while Bank C has to process a credit card.  Each of their clients had different specifics in their contracts.  We were able to create a system that allows the company to group specific users as employees of different banks so that the information they see is correct once they log in to their account.
That system has allowed B & B Tech to streamline their ordering process.  It has reduced the time it takes to get the products to their clients, all but eliminated human error, reduced the time B&B employees spend on the phone, and brought new savings to their bottom line.  Now when a customer needs more ATM ribbon, they simply log in and order it.  The correct price and payment method is already set up and the order goes into their product fulfillment department directly with no time wasted at all.  Talk about a Win/Win for everyone involved.
Similar Business Website Layouts
The items below are listed in the business category of our
layouts database
. Your website can look like just about any of the options below when we are Your-Web-Guys.
Make Us Your-Web-Guys Today

Step 1: Tell us about your business
My company...