Builders Website Design
http://www.HolidayCustomHomes.com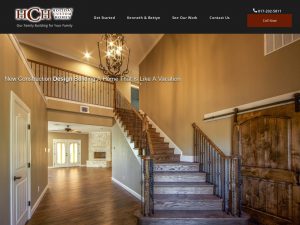 Holiday custom homes is one of the premier home builders in Johnson county.  The specialize in "barndominiums" which, from what this web guy can tell, are a cross between a barn and a condo so they have all the urban convenience while still retaining the country homy-ness.  They can do a remodel or build it from the ground up.  They try to make building your home just like going on holiday... hence the name!
THE PROBLEM
Their previous website had some major design issues.  The biggest being that their previous provider didn't really listen to what they wanted their website to do or look like.  He had his ideas and that was what was done.  When his client asked for changes he would either distract them with geek speak or just flat out not do it.  They were tired of their website being the opposite of a holiday... it was becoming a real pain the neck.
THE PLAN
They wanted a site that would not only look the way they wanted which would convey their values, but they also wanted it to showcase their work in an easily digestible and navigable format using lots of images.
THE SOLUTION
We put together using our standard, content management system,  a responsive web design that did their custom home designs justice.  It features a custom photo gallery that allows them to showcase their projects in albums that are accessible through a single thumbnail.  That way when they complete a project, the add the images to the project gallery in the portfolio albums, and also add the images to specific other galleries such as their bathroom showcase or kitchen example galleries too.  It has some pretty nifty lazy load features as well as complete cross-browser compatibility just like almost all the sites we build.
This builders website design was added to our portfolio on Wednesday, March 7th, 2018 at 12:00 am and is also featured in the folloiwng categories
Builders
,
Construction
,
Home Improvement
Similar Builders Website Layouts
The items below are listed in the builders category of our
layouts database
. Your website can look like just about any of the options below when we are Your-Web-Guys.
Make Us Your-Web-Guys Today

Step 1: Tell us about your business
My company...