Kinney Studios
Photography Website Design
http://www.kinneystudios.com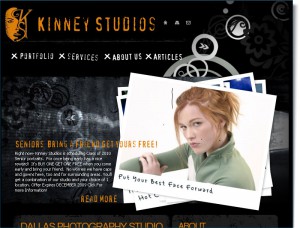 Our sister site for our in house photographer.  She offers fine photography at a fair price.  Includes beautiful javascript presentations for portfolio photography
Update: 3-6-09
With the changing times, this photography studio needed to update their image.  So we redesigned their website with an integrated  Content Management System (CMS) that will allow them to update everything from their bios to their pricing to updating both past and present clients through the Newsletter Plugin added to it.
Similar Photography Website Layouts
The items below are listed in the photography category of our
layouts database
. Your website can look like just about any of the options below when we are Your-Web-Guys.
Make Us Your-Web-Guys Today

Step 1: Tell us about your business
Portfolio Categories
This is a categorized list of the clients we have currently online.
Success Studies
Russell Feed
New version of Russell Feed's Website This multi-location feed company not only needed a better ...
Read More
Mansfield ISD Foundation
New layout for mansfieldisdfoundation.org A Complete Content Management System, an integrated Calendar, and multiple ...
Read More
View More
Testimonials